Awards
Best Partner in Imported Material (Mechanical Components) by Ace Manufacturing Systems 2023
We are proud to announce that SCHNEEBERGER has been awarded as the Best Partner in Imported Material (Mechanical Components) by Ace Manufacturing Systems.
We have been providing MONORAILS and AMS systems to Ace Manufacturing Systems for many years and are thrilled to have contributed to their success as one of the largest manufacturers of Machining Centres in India.
Thank you, AMS, for the recognition and congratulations to our team for their hard work and dedication!
Milacron Supplied Award 2022
We are very proud to inform the receipt of supplier award for "on time delivery performance" from Milacron India.
MILACRON is world's leading manufacturer of plastic injection molding machines with HQ in USA and their Asia's largest production unit in India.
Milacron is now part of group Hillenbrand in US.
We sincerely thank DEML team for their support!
Award for exemplary delivery perfomance 2018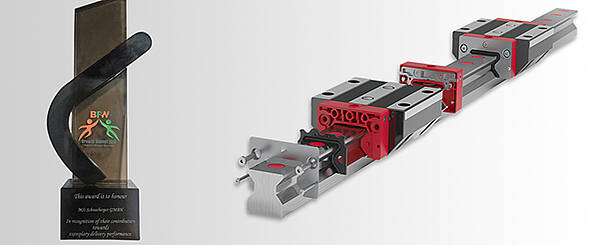 In June 2018, SCHNEEBERGER India has won the award from BFW for an exemplary delivery performance with our MONORAIL.
Many thanks to all the staff for your cooperation!
FESTO Supplier Elite Award 2016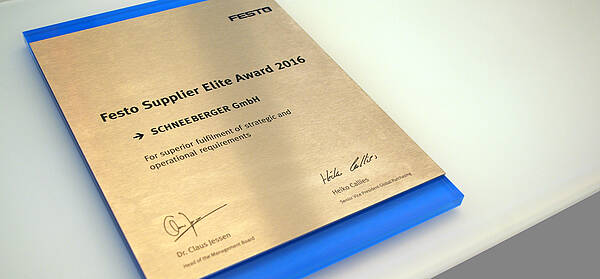 SCHNEEBERGER linear technology has been able to win the Festo Award once again!
With 87,000 pieces delivered Minislides and a very good result of 98 points was SCHNEEBERGER the preferred supplier.
Many thanks to all the staff for your cooperation!
FESTO Supplier Elite Award 2015

Festo AG & Co. KG is one of the largest companies worldwide in pneumatic and electronic automation technology. Festo currently employs around 17,800 people in 176 countries and achieves a turnover of approximately 2.3 billion euros.
On June 16, 2015, at Schloss Filseck in Uhingen, Festo awarded the "Festo Supplier Elite Award" for the fourth time to the best supplier of the Group. In the end, only 23 companies out of more than 700 suppliers had the opportunity to receive this coveted award; this was the second time since 2012 that we were able to meet the stringent requirements and receive the award. Specifically, this means:
91,291 items delivered
all parts free of defects
every delivery on time
very good soft facts evaluation
This distinction is the reward for the great and tireless efforts we provide every day for our customer Festo. At the same time, it is an incentive to not let up on our efforts, but to become even better so that we will be invited again next year to the award ceremony.