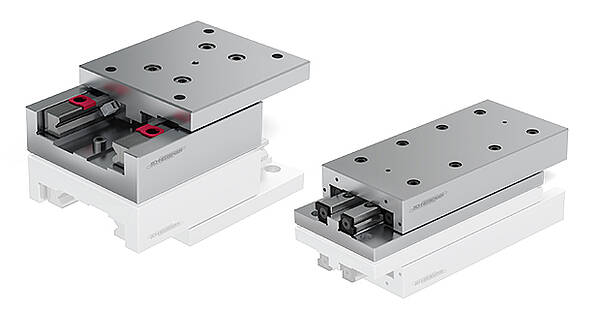 Type NK, with its aluminummain parts, has a lighter weight than Type NK. Type NKL single-axis frictionless tables consist of equal length top and bottom parts and associated Type R longitudinal guideways, with lengths of 25 to 410 mm and strokes of 10 to 280 mm. All four sizes come equipped with Type AC roller cages and Type GB end pieces, suitable for horizontal and vertical installation. Standard fastening holes are provided in the top and bottom parts. The side opposite the assembly screws can be used as the locating face. In the standard version, limited stroke is performed in the same way as Type NK. The FORMULA-S no longer requires screws thanks to the cage-centering principle. Special versions are available with ball cages (Type AK) for less sensitivity to dirt and a lower load carrying capacity.
SCHNEEBERGER E-SHOP
Frictionless table in various designs
Linear units suitable for flexible dimensioning and multiple installation options
Legend:
100% best choice
75%
50%
25% good choice
0%
SCHNEEBERGER overview linear bearings and positioning systems
CAD data for type NKL for download:
The selected size can be configured and is available in all common data formats Please click on the appropriate size combination to start downloading.
Open CAD data